ClearCorrect Wodonga
Clear aligners, specifically the ClearCorrect® system, have gained popularity in the past years. Millions of patients worldwide have already chosen to correct their teeth with this orthodontic method.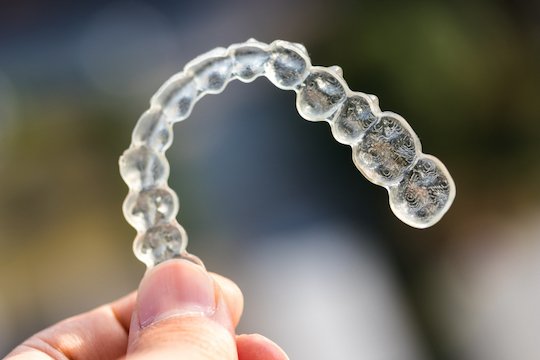 What is ClearCorrect?
ClearCorrect is a leading alternative to painful and bulky metal braces. It is a patient-tailored treatment plan developed to correct imperfections such as straightness and spacing in the teeth.
ClearCorrect utilises clear, BPA-free corrective plastic aligners to gradually pull your teeth into place.
ClearCorrect results are nothing short of amazing. They shape your smile perfectly with clear braces that are nearly impossible to detect.
Benefits of ClearCorrect
Simulated Outcomes
ClearCorrect treatment provides patients with an accurate treatment timeline through 3D simulations.
Patients who choose ClearCorrect will see a simulated outcome of their smile after completing treatment, even before getting started.
Invisible, Aesthetic and Stain Resistant
Unlike braces treatment, ClearCorrect provides patients with a highly discreet procedure that's visually aesthetic through the use of clear aligners, which have been made to be highly stain resistant.
This ensures that no one will even notice that you're having your teeth straightened.
Removable and Convenient
ClearCorrect is removable, unlike conventional metal braces, providing patients with the added convenience of removing their aligners when eating, drinking or brushing.
Additionally, you don't need to worry about any restrictions or interferences with sports, diet or physical activities. You can continue living a hassle-free life!
Easy Maintenance of Oral Health
Clear aligners allow patients to maintain their oral health throughout their orthodontic treatment as both brushing and flossing will not be difficult, unlike braces treatment.
Making sure that gums and teeth stay healthy during the whole process.
Reduced Visits
Patients who undergo ClearCorrect treatment will only need to come in for scheduled check-ups to the dentist once every 6 to 8 weeks while undergoing the treatment.
Whereas patients undergoing treatment with conventional metal braces will have to come in every 4 weeks to tighten their braces.
Increased Comfort
ClearCorrect clear aligners are comfortable to wear, making the whole treatment process painless and hassle-free.
Unlike braces treatment which causes dental discomfort and prevents patients from living a full and active lifestyle while undergoing treatment.
ClearCorrect in Wodonga
If you are thinking about using ClearCorrect in Wodonga, your Wodonga dentist, Dr Puja can help you make the right decision for your orthodontic needs and lifestyle.
For questions and concerns, call us on (02) 6024 1516 or request your appointment online.
We are located at 340 Beechworth Road in Wodonga.
Frequently Asked Questions
About ClearCorrect Wodonga
Your Title Goes Here
Your content goes here. Edit or remove this text inline or in the module Content settings. You can also style every aspect of this content in the module Design settings and even apply custom CSS to this text in the module Advanced settings.
Does ClearCorrect treatment hurt?
ClearCorrect treatment does not hurt. The plastic is specially designed to fit snugly over the teeth without irritating the gums or the soft tissues of the mouth. There might be slight tooth sensitivity when switching to a new set of aligners, but it usually disappears within a few days.
Will ClearCorrect affect my speech?
You will be able to speak clearly while wearing your aligners. It might take a few days for your tongue and the muscles in your mouth to adjust to the aligners.
Are the aligners hard to keep clean? How do I clean them?
No. The aligners are simple to keep clean. However, tooth decay, periodontal disease, decalcification or inflammation of the gums may occur if proper oral hygiene and preventive maintenance are not maintained.