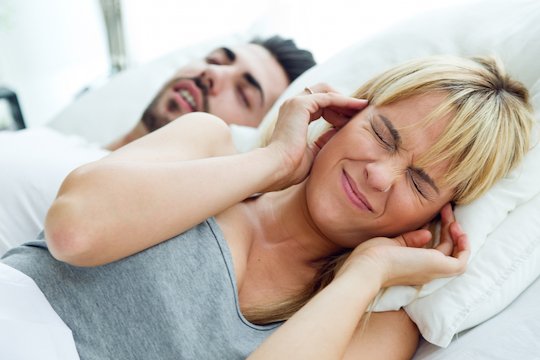 Snoring: The Sleep Disruptor
Loud snoring may be distracting, especially to a sleeping partner or anyone else nearby, but it's not uncommon.
Snoring occurs when the flow of air that you breathe in — from your nose, mouth or both — causes the tissues in the back of your throat to vibrate.
There are many harmless reasons people might snore, such as having a cold or allergies. In some cases, it's not likely to disturb your sleep, though it may leave you with a dry mouth or sore throat when waking up.
Sleep Apnoea: What's the Harm?
Sleep apnoea is a sleep disorder characterised by abnormal pauses in breathing or instances of abnormally low breathing during sleep.
Each pause in breathing, called apnoea, can last from a few seconds to minutes and may occur 5 to 30 times or more per hour. Similarly, each abnormally low breathing event is called hypopnoea.
Sleep apnoea is diagnosed with an overnight sleep test called a polysomnogram, or "sleep study".
3 Forms of Sleep Apnoea
There are 3 forms of sleep apnoea: central (CSA), obstructive (OSA), and complex or mixed sleep apnoea.
In CSA, breathing is interrupted by a lack of respiratory effort; in OSA, breathing is interrupted by a physical block to the airway despite the respiratory effort, and snoring is common.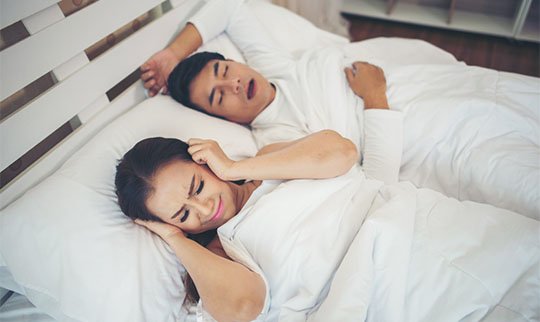 Regardless of type, an individual with sleep apnoea is rarely aware of having difficulty breathing, even upon waking up.
Sleep apnoea is recognised as a problem by others witnessing the individual during episodes or is suspected because of its effects on the body.
Symptoms may be present for years without identification, during which time the sufferer may become conditioned to the daytime sleepiness and fatigue associated with significant levels of sleep disturbance.
What's the Difference Between Snoring and Sleep Apnoea?
Obstructive sleep apnoea (OSA) is a breathing disorder in which the airway gets blocked or collapsed during sleep, causing repeated lapses in breathing.
Snoring is the most common symptom of OSA, but not all people who snore have OSA. OSA-related snoring tends to be loud and sound as if a person is choking, snorting, or gasping.
OSA disturbs sleep and often disrupts the balance of oxygen and carbon dioxide in the body. More mild snoring, also called primary snoring, occurs frequently but doesn't provoke these other effects.
Get a Sleep Apnoea Diagnosis in Wodonga Today!
Snoring is annoying, but obstructive sleep apnoea is a chronic condition that benefits from long-term treatment. Identifying the problem, and seeking help, is the best way to lessen its impact on the quality of your life.
Your health depends on getting enough sleep. If you or your partner experiences any symptoms of snoring or sleep apnoea, your Wodonga dentist.
There are treatments, and you can get your restful nights back.
For questions and concerns, call us on (02) 6024 1516 or request your appointment online.
We are located at 340 Beechworth Road in Wodonga.
Frequently Asked Questions
About Snoring and Sleep Apnoea Wodonga
Your Title Goes Here
Your content goes here. Edit or remove this text inline or in the module Content settings. You can also style every aspect of this content in the module Design settings and even apply custom CSS to this text in the module Advanced settings.
What causes sleep apnoea?
Sleep apnoea can occur if your airway becomes obstructed while you're sleeping. In some cases, the tongue and throat muscles relax and block the airway. Structural issues, such as a large tongue or tonsils, can increase your risk of developing the condition. People who are overweight are also at an increased risk of sleep apnoea.
What can happen if sleep apnoea goes untreated?
Sleep apnoea side effects can disrupt your daily life because of the impact it has on your overall health and productivity.
If left untreated, sleep apnoea can lead to:
Low energy and reduced productivity
Irritability, anxiety and mood swings
Diabetes, due to inability to regulate insulin
Hypertension, as the heart exerts more to pump oxygen through the body at night
What is a Sleep Study?
A sleep study, or polysomnography, is a test intended for obstructive sleep apnoea diagnosis and similar sleep disorders. The test records brain waves, heart rate and breathing, eye and leg movements, and heart rate during your sleep.
Polysomnography monitors your sleep stages to find out if you experience disrupted sleep patterns and determine the cause for it.
The sleep study is a very nuanced test that requires proper testing conditions and elaborate equipment. So it is almost always conducted at a facility where you need to go and spend the night.