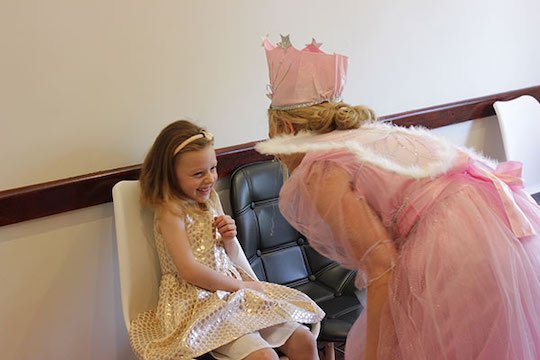 Remember the days of the dreaded school dental van or dental clinic visits?
We ensure your children don't have to go through the same experience with our dentist!
You have come to the right place! Here at Prime Care Dental, we have put the fun into dental trips for your little one.
We understand the importance of children having a smooth and positive introduction to the dentist.
We ensure your children have a great experience and, in turn, will set them up for good dental habits in the future.
Our Approach to Children's Dentistry is Unique
Our resident Tooth Fairy will take your children's dental visits to an entirely new level.
Upon arrival, your child will be ushered to the dedicated children's waiting area where they can relax in a comfy bean bag, watch a movie, read a book or have a play.
From here, they will be greeted by the Tooth Fairy and taken into the Tooth Fairy Wonderland treatment room. This room is colourfully decorated, we have televisions with cartoons on the ceilings, and plenty of tooth fairy themed objects.
Our team will ensure that your child feels secure and happy throughout their appointment.
We believe in taking the time to let your child explore their surroundings and will work at a pace to suit your child.
We have a fun crocodile puppet that will help teach your child about dental hygiene.
Walking You Through Your Child's First Appointment
As soon as your child develops teeth, we would encourage you to attend our practice for your child's first dental visit, during which they can become familiar with our dental environment.
As your child gets a "ride" in the dental chair, we can count their teeth and have some fun with the dental intraoral camera, giving them a guided tour of their smile. They will receive a reward for their co-operation, and our dentists will encourage them to brush their teeth regularly and speak with them about the importance of their teeth.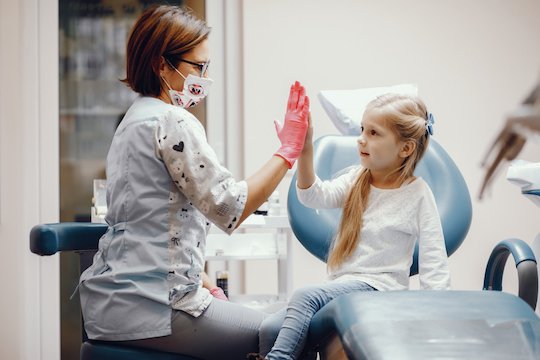 When the 'big day' comes to visit Prime Care Dental, we can help you make it an exciting event for your child. If you like, you can take along their favourite toys to play with while they are waiting. Here at Prime Care Dental, we make children's dentistry easy and fun because it is important not to wait until your child experiences a toothache to visit us.
Do you find it challenging to get your child to a dentist? With our tooth fairy appointments, we can help take the anxiety out of seeing the dentist by making it a fun experience. We can also explain the importance of taking care of their teeth, as well as help them stop sucking their thumb.
At Prime Care Dental, we recommend that your child starts their Dental experience as soon as they start developing teeth. We encourage our youngest patients' parents to become involved in the excitement of their child's tooth fairy appointment; we have even had some parents dress up to be part of the fun.
From all our staff, we look forward to eliminating any fears in going to the dentist while also adding a little fun to the experience. Our tooth fairy is a trained dentist with a wealth of experience in caring for children and helping them to relax during their appointment.
Bulk Bill for Eligible Children for General Dental Appointments
This bulk billing scheme through Medicare is formally known as the Child Dental Benefits Schedule.
Child Dental Benefits Schedule in Wodonga
Bulk Bill for eligible children
Up to $1,052 worth of dental treatments over two years
If you would like to know more about the Medicare scheme or would like to book an appointment with the Tooth Fairy, be sure to call us right away. Remember, these appointments book fast!
Call your Wodonga dentist on (02) 6024 1516 or request your appointment online.
We are located at 340 Beechworth Road in Wodonga.
Eliminating Dental Worries?
By visiting Prime Care Dental from an early age, we can help eliminate the fear of the dentist.
We can create a positive association between your child and our dentists, helping to build a healthy attitude towards dental care that can last a lifetime.