Dental Crowns Wodonga
Did you break a tooth?
Is a large cavity forcing you to chew your food on the other side of your mouth?
A dental crown is a restoration that preserves the weaker, internal portion of a tooth that has large areas of decay or fractures.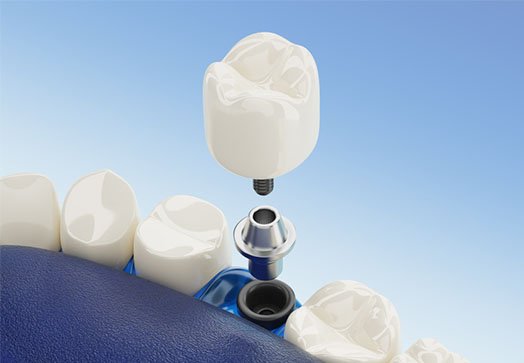 Dental Crowns Wodonga Return Strength and Integrity to Broken, Decayed Teeth
Crowns cover the entire surface of the tooth above the gumline, returning the structural integrity to the tooth so that it can once again function as normal.
After we repair your tooth with a dental crown, you'll be able to bite and chew just as you did before the tooth was damaged. Because it covers the entire tooth, a crown protects the weaker areas inside the tooth that would otherwise soften, decay, or break apart.
The design of your crown will significantly affect the way your smile looks, so at Prime Care Dental, we focus on aesthetics as well as general restorative treatment.
When Are Crowns Necessary?
Dental crowns are the last line of restorative treatment available to preserve a tooth.
They are often used:
After root canal treatment.
To restore broken, fractured teeth.
When replacing old, large fillings.
To treat non-vital teeth.
A crown is placed on a tooth when it is not possible to restore it with a filling. Fillings will only repair a portion of the tooth, but very large fillings cannot structurally withstand normal biting. A crown will distribute pressure evenly over the entire restoration and protect the tooth from fracturing.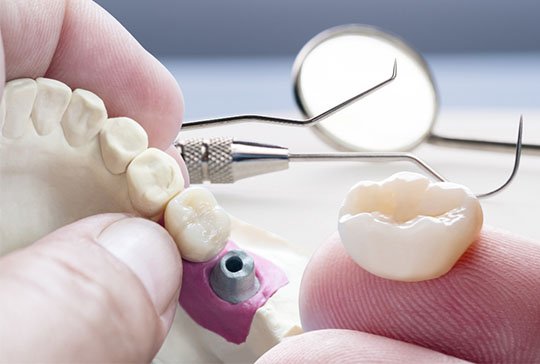 Cosmetic Dental Crown Options
Your crown designed by Dr Puja will match the colour of your adjacent teeth to ensure that your repaired tooth blends in and looks natural when you're talking or smiling.
Depending on the location of the tooth, your treatment needs and personal preferences, Dr Puja provides the option to have your crown made of porcelain.
Prime Care Dental patients love the way their new crowns look and know that we take the time to design teeth that reflect the quality of care they deserve.
Dental Crown Procedure: A New and Improved Smile in Just 2 Visits
Treatment appointments are typically broken up into 2 separate visits.
At the first visit, Dr Puja will prepare the tooth by removing any broken or decayed enamel. She then takes an impression of the tooth as well as the rest of your mouth to ensure that your new crown will fit and bite in proper alignment with the other teeth in your mouth. These models are sent to our off-site dental laboratory, where a custom-made crown is produced according to Dr Puja's specifications.
Within about 2 weeks, your permanent crown will be ready for you to try, and if it fits, you'll have it permanently cemented in place.
Your visit is short and very comfortable, and as soon as it is completed, you will have a brand new, functioning tooth. We won't ever rush you out of the office, and you can rest assured that Prime Care Dental crown treatments will give you a reason to smile again.
Crown Treatment Should Never be Delayed
Putting off treatment for a dental crown can allow weak tooth enamel to break apart, exposing the nerve or even fracturing the tooth beyond repair.
If you suspect that your tooth has broken or you have had a filling fall out, please call our office at your earliest convenience. The quicker you seek out treatment, the more likely you are to be able to preserve your tooth.
Call your Wodonga dentist and let us help you repair your teeth so that you can get back to enjoying a healthy smile!
For questions and concerns, call us on (02) 6024 1516 or request your appointment online.
We are located at 340 Beechworth Road in Wodonga.
Frequently Asked Questions
About Dental Crowns Wodonga
Your Title Goes Here
Your content goes here. Edit or remove this text inline or in the module Content settings. You can also style every aspect of this content in the module Design settings and even apply custom CSS to this text in the module Advanced settings.
What is a dental crown?
A dental crown is a tooth-shaped "cap" that is placed over a tooth — covering the tooth to restore its shape and size, strength and to improve its appearance.
The crowns fully encase the entire visible portion of a tooth that lies at and above the gumline.
Why might a crown be recommended?
If you have a cracked, broken, uneven or weakened tooth due to bacteria or decay, then a dental crown can help. Dental crowns help restore the actual tooth, allowing you to live life normally and pain-free. They also serve as a preventive method, keeping you from more serious problems in the future.
Is it a painful process?
A crown will be fit over an existing tooth or dental implant, but to do that, the dentist may need to modify the tooth. During the process, anaesthetics are administered, and you shouldn't experience pain, though you may feel a bit sore post-procedure.