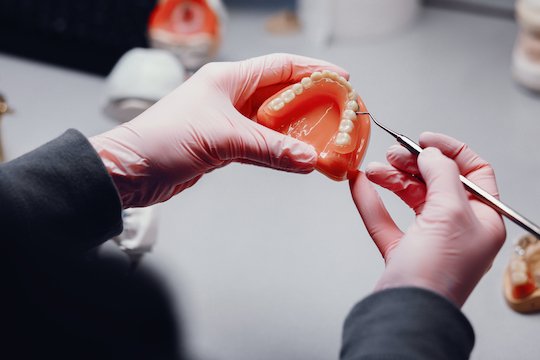 Dentures Wodonga
Dentures are devices used to fill in the gaps created by missing teeth.
Missing teeth are common among adults and elderly people and can be caused by various things such as decay, periodontal disease, inadequate oral hygiene, or accidents caused by sport or other injuries.
Dentures are worn to restore the function of your jaw and improve the look of your smile. Your Wodonga dentist will examine your jaw and any remaining teeth and discuss restoration options with you.
What are dentures made of?
Dentures are comprised of a plate, metal, or acrylic, designed to fit over the bone and soft tissues of your jaw.
Ceramic or acrylic false teeth are attached to the plate, matching any remaining teeth to create as natural a look as possible.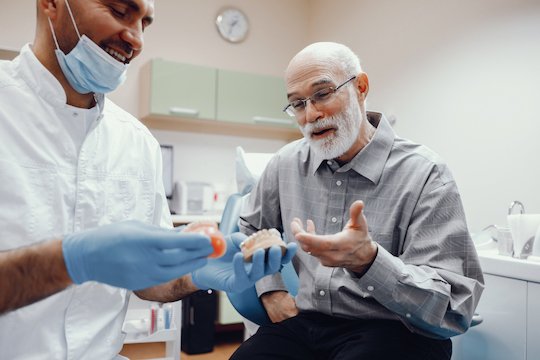 Are dentures the right treatment for me?
Depending on the severity of your case, we will either create partial dentures in the case of only a few missing teeth or complete dentures to replace a full set of missing teeth.
Dentures are removable and easy to clean. The false teeth will discolour like regular teeth, so proper dental care at home and regular check-ups will be necessary to adequately take care of your dentures.
Types of Dentures
There are 2 main types of removable dentures:
Full dentures – are worn when all of the teeth in one jaw are missing. These are usually made from plastic.
Partial dentures – are worn when there are some teeth missing, but other teeth remain. The denture replaces only the missing teeth. These dentures can be made from plastic, metal or a combination of both.
They have tiny metal clasps that rest or grip on the natural teeth to secure the denture in place. It is important for the remaining teeth to be in good health to support the partial denture.
How are dentures made?
The denture making process takes several appointments to complete.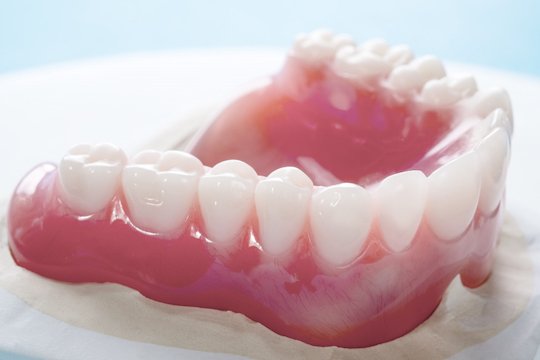 Once your Wodonga dentist determines what type of appliance is best for you, the general steps are to:
Create a series of impressions of your jaw and take measurements of how your jaws line up and how much space is there between them.
Make models, wax forms, and/or patterns in the exact shape and position of your denture. You will "try in" this model several times, and the denture will be evaluated for colour, shape, and fit before the final denture is made.
Make necessary adjustments.
Want to Know More About Dentures in Wodonga?
How do you determine which type of denture is the best for you? Well, if you live in or near Wodonga, call our dental office today.
Schedule an appointment today with your Wodonga dentist, and we can help you decide which type of denture is best for you.
For questions and concerns, call us on (02) 6024 1516 or request your appointment online.
We are located at 340 Beechworth Road in Wodonga.
Frequently Asked Questions
About Dentures Wodonga
Your Title Goes Here
Your content goes here. Edit or remove this text inline or in the module Content settings. You can also style every aspect of this content in the module Design settings and even apply custom CSS to this text in the module Advanced settings.
What are dentures?
Dentures are dental prosthetics used to replace a patient's missing teeth. They are made up of artificial teeth and gums that are customised and fitted to each patient's mouth. Unlike other methods of tooth repair or replacement, dentures are not fixed to the jawbone, making them easy to clean and maintain.
Will dentures affect my speech?
Every time you receive a new denture, there is always a period of adjustment. During this period, you may notice some changes in your speech. Within a week or so, this should disappear as your muscles have already adapted to your dentures. Some dentures may produce a clicking or whistling sound. This is a sign that your dentist should adjust or repair them.
Do I need to remove my dentures at night?
Yes. Removing your dentures at night allows your gums and tissues to 'breathe'. If you keep on wearing your denture, you are exposing yourself to infection (usually fungal).